COVID-19 Update: Our online calendar is current and bookings for tours can be made using any of the Book Now links. We are a small shop with only one boat, so we recommended booking early as spaces fill up fast! Our online store is available 24/7 and our shop is open 9:00am - 4:00pm most days. Culebra Divers follows the equipment disinfecting guidelines published by the experts at the Divers Alert Network (DAN). Social distancing, hand hygiene, and mask requirements must be adhered to including submitting to temperature checks for those renting gear. Updated Travel Guidance Here
Book Online to Make a Reservation
Online booking is currently available for most of our tours (diving, snorkeling, training, private charters). If you're having trouble booking or don't see what you need, please email us: [email protected]
Shop Online!
Our online store is up and running! Click the Shop Now button to check out our latest merchandise. Purchase Culebra apparel, gifts, and souvenirs 24 hours a day, 7 days a week, 365 days a year wherever you may be! FREE shipping for orders over $100.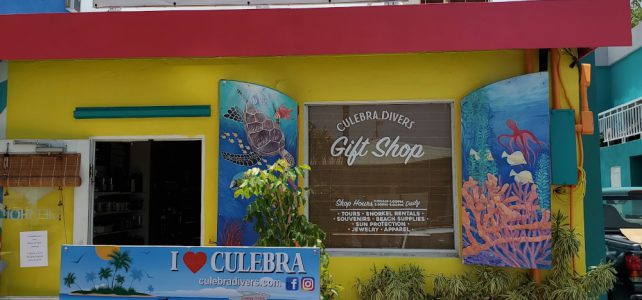 Culebra Divers is a small local family business that's been in operation since 1987. Our goal continues to be excellent customer service making your visit to Culebra the best it can be....
Learn More
Top notch dive shop
We did the 2 tank AM boat dive; both dives were great, the staff was excellent, ... They also have a nice store where we purchased a couple souvenirs to remind us of our weekend on Culebra. We will most certainly dive with Culebra Divers next time we are on the island!
from a recent TripAdvisor review
June 2021
Culebra's Top Rated Dive Operation on TripAdvisor